INSTALATION PROCESS & PAVING SERVICES
The key to a long lasting driveway is the base material
We want every driveway we build to provide beauty and service for a long time to come.
Contact us today to schedule a visit from one of our expert driveway consultants. We'll answer all of your questions and help you choose the right materials and construction techniques for your exact location.
Every driveway and property is unique and Bay State Paving's long experience and highly trained driveway consultants are your assurance of a great driveway for your home or commercial property.
Our Process
Below is an example of our installation process.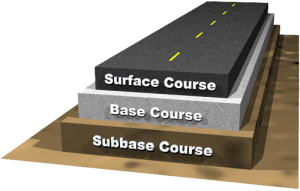 Remove existing asphalt
Excavate all sod, loam and weeds from driveway area
Grade, level and smooth driveway
Install processed aggregate base material as needed
Install base layer of asphalt 1.5″ – 2″
Install finished layer of asphalt surface 1.5″ – 2″
Machine spread an even surface ( space permitting )
Machine roll driveway surface for maximum compaction and finished surface
Bay State Paving came highly recommended through a co-worker. Although I got 2 other quotes for my driveway I decided to go with Bay State just because of how nice my coworkers driveway came out and the friendly demeanor of Bob the owner. Bob was fine with the fact that I had a friend grade my driveway and bring in gravel before hand and he took that into consideration for the price. Another paver insisted on grading and providing his own gravel so that was a dealbreaker since I was looking to save money.
Bob and his crew arrived on time the morning of the job and started by laying out the lines, then properly grading my friends ( i find out poor grading job ) basecoat layer. Then they compacted it. Then they used the paving machine to lay the basecoat. I am very impressed with the edging and after 2 weeks the entire job has remained as perfect as the day it was done. The transition from the street to the driveway was nearly seamless. This was for a 4 car driveway.
I called Bob McDonough at the beginning of November, he called back the next day and came by for an estimate the following day. I had called 6 companies at the same time, 2 were booked for the season, 3 gave me estimates and 1 (who was also referred by someone who was booked) never called back.
I called the beginning of December and he came on December 5th. I did not see him working, but when I came home the driveway was done and there was no mess. Neighbors indicated he came with a crew, they did there work, cleaned up and were gone. Upon inspection the job looked very good, the work along the foundation looked tight and not likely to leak into the house. Bob called and reviewed the instruction to stay off the driveway for a couple of days and that in the spring it would need a seal coat. I will call him in the spring to have him do the seal coat.